The COVID-19 pandemic paralysed a lot of initiatives in the world. The humanitarian sector was no exception. The entire planet had to put COVID-19 at the center of its day-to-day operations.
During 2020, schools closed down again, accentuating the delays in education for youth. Unlike some parts of the world, youth could not further their studies virtually due to lack of access to technology and electricity.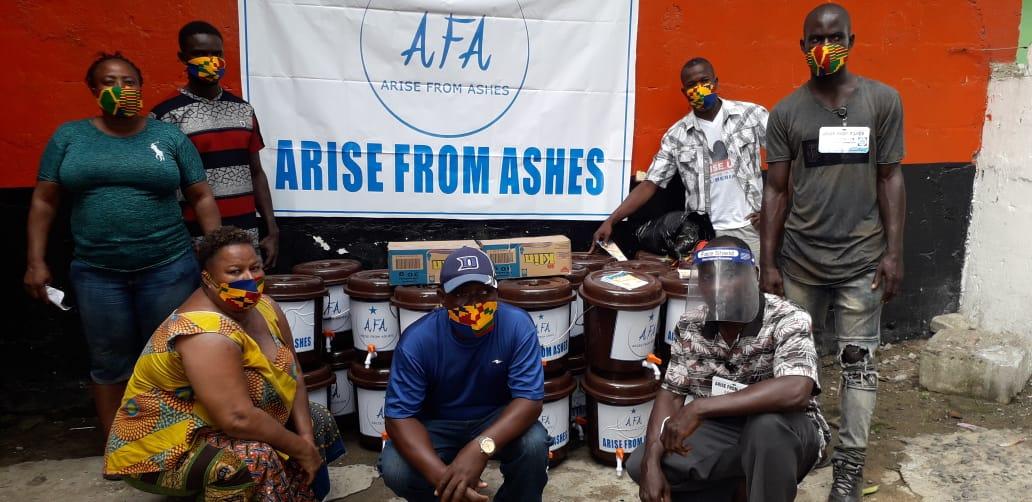 The entire world suffered the consequences of this pandemic, but for the poorest, the most vulnerable and marginalized, without food, security, education, their needs became more and more alarming. Those without any skills and education understood how urgent it was for them to have some minimal tools to be able to fend for themselves.
AFA had to find novel ways to integrate the efforts made to relieve marginalized victims living below poverty level within the COVID pandemic context. This challenge was actually the positive catalyst that gave birth to two of AFA's projects : Tailoring & Fashion School as well as the COVID-19 Awareness program.
 COVID-19 AWARENESS PLAN – APRIL 2020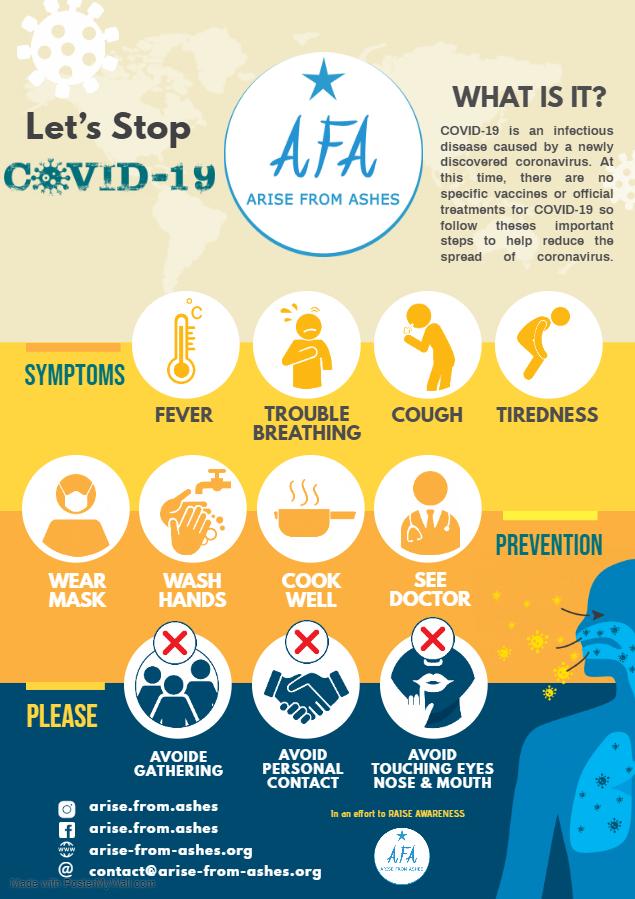 At the beginning of the COVID-19  pandemic, the need for awareness was really critical in these communities that are disconnected from channels of information and communication like television.
Due to the acute needs of our target groups, we decided to begin awareness in communities living in extreme poverty. We also engaged two professional Tailors to make some hundreds of masks for the awareness campaign.
According to the African Centre for the Constructive Resolution of Disputes (ACCORD) the distribution and donation of COVID-19 materials by several civil society and community-based organisations in Liberia represents 33% of all response activities. This is followed by community-based awareness-raising campaigns, which accounts for 17%.
Mask-making Workshop in March 2020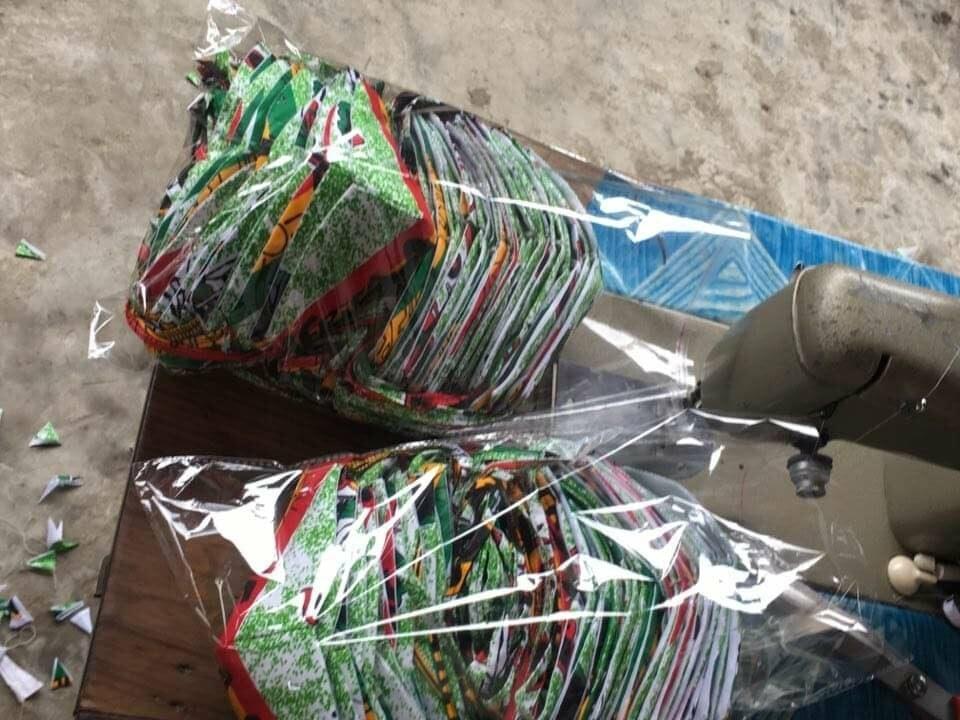 AFA worked with its local partners (a team of 21 persons including members and volunteers) to begin COVID-19 awareness in four of the poorest communities in Blamo Town, Monrovia, Gbekeh, Harper City Airfield Community and Nekangbo Community, Maryland County.
CRITERIA FOR THE CHOICE OF TARGET COMMUNITIES
The choice of the beneficiary communities was made in line with our mission, vision and goals.
Two of these communities (Blamo Town and Nekangbo) have typical slum characteristics: lack of basic infrastructures, high population density, poor and unhealthy environmental conditions,lack of community toilets (5% of the residents have private toilets, 95% use the swamp land or « flying toilets ») very poor buildings, high rate of criminality and delinquency, etc., hardly any electricity (people use lamps and candles). People do not feel safe at night.
All of these communities have very bad access road conditions, especially during the rainy season.  The main roads to these communities sometimes get blocked by earth and rubbish, with no real drainage systems. None of these communities do not have adult literacy, vocational training and skills development institute.
SENSITIZATION AND DISTRIBUTION
Our local partners distributed flyers during the awareness and explained symptoms and prevention methods to those communities.
Some hundreds of buckets with taps, specially designed for protection against viruses such as Ebola and COVID-19 were also distributed. These buckets are normally placed before a group of homes for visitors to wash their hands or for community members to wash their hands for each time they go out and return to the community.
Sanitary items (liquid, solid, powder detergents) were also distributed to empower the resilience of four communities against the pandemic.
Sanitary items (liquid, solid, powder detergents) were also distributed to empower the resilience of four communities against the pandemic.
International Women's Day – March 8, 2021 – Awareness On The Benefits Of Using Reusable Sanitary Pads
In preparation of the International Women's Day, AFA engaged Dr. Kathi Guttierez, President of Dignity Liberia to teach students from the school on how to make reusable sanitary pads. She conducted this training on February 17, 2021 during her mission to Liberia, where the 12 students of AFA's Tailoring School actually learnt how to make reusable sanitary pads.
According to Dr. Guttierez, it was easy for AFA's students to learn because they already knew how to sew before the workshop.
AFA celebrated the International Women's Day with 38 girls in 7th – 9th grades from the Island Community School in New Georgia Estate where the Tailoring School is located. AFA presented each girl with a kit comprising 2 reusable sanitary pads, 1 bar of soap, 1 pack of powder soap, 1 fabric pouch, 1 wash towel. The reusable sanitary pads were made by students from AFA's Tailoring School. These pads have health and environmental benefits.
Menstrual Hygiene and Teen-age Pregnancy Prevention
World Menstrual Hygiene Day – May 28, 2021 – Awareness On Menstrual Hygien Management And Removing Menstruation Stigmas
The International Menstrual Hygiene Day is celebrated around the world on May 28 because the average days of the menstrual cycle is 28 and the length of the period or menstruation is an average of 5 days. May is also the 5th month of the year. This is how the date May 28 was selected.
This year, the world used the Menstruation Bracelet as a simple and powerful symbol for menstruation on Menstrual Hygiene Day. The Menstruation Bracelet consists of 28 beads, 5 of which are red (28 = average duration of the cycle; 5 = average days of bleeding. Girls wore bracelets to show support to those who experience menstruation as a taboo. This also supports the end of the period stigma.
 Some bracelets with slogans are below :
All countries around the world use this day to speak about the problems girls and women face due to their menstruation and to propose solutions to these problems.
In Liberia, many teenagers (girls) do not go to school during their menstrual cycle because they cannot afford to buy sanitary pads.
AFA marked this occasion with a celebration at the Gabriel Kpollah Elementary, Jr & Sr. High School in New Georgia Housing  Estate's Morning Session. The event was attended by the Principal of the School, AFA's  Director of Operations, all the students of the Tailoring School, the Head Teacher, the District Education Officer.  AFA conducted an awareness session for 100 female students at the school on menstrual hygiene management, the health and environmental benefits of these reusable sanitary pads.
The main theme was : «What is menstruation, what is the world menstrual hygiene day and why do all countries celebrate it on may 28»?
Some of the solutions are: women and girls should not be ashamed of menstruation or period girls and women should have good menstrual hygiene local, national and global policies should support women and girls through programs, projects, activities.
AFA made a donation of over 100 kits containing reusable sanitary pads, soap, towels and underwear to female students from Gabriel Kpollah Ele, Jr & Sr. High School in New Georgia Housing  Estate's Morning Session. The reusable sanitary pads were made by the girls from the tailoring school.
The Principal of the School immediately engaged AFA for assistance to counsel young students on the prevention of pregnancy and menstrual hygiene management in 2022.
This event was filmed by SPOON TV and can be viewed through the following link: https://www.facebook.com/STLLIB/videos/331032725063561/?sfnsn=mo.
A student from the tailoring school speaking to students on menstrual hygiene management and removing menstruation-related taboos:
AFA Tailoring School students

SOLIWAY SOLIDARITÉ INTERNATIONALE MODE D'EMPLOI(S)
For the past 13 years, the exhibition organized by the Cité de la Solidarité Internationale (CSI) has been an information and orientation event on occupations and training in International Solidarity. It's also a meeting place for professionals to network and reflect on their practices. Taking place near International Geneva, SOLIWAY is the only national and cross-border exhibition dedicated to the occupations and the actors of International Solidarity.  
This year, AFA attended the SOLIWAY two-day exhibitions which were beneficial in so many ways :
Many activities were presented to allow us to discover international solidarity at different levels

More than 50 exhibitors were there to answer all kinds of questions concerning international solidarity
Discussion slots on human resource management, project development methodology, etc.
Networking opportunities between experts and actors of solidarity presenting new forms of cooperation
Data management, needs analysis, implementation and monitoring of activities.
Some pictures during our day at SOLIWAY:
AFA Tailoring School students